Raymond M. "Mac" Wade, CPE, Employed by Morgan City Harbor and Terminal District as its new Executive Director
Details

Category: News & Press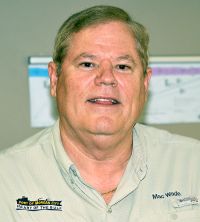 Raymond M. "Mac" Wade, CPE, Employed by Morgan City Harbor and Terminal District as its new Executive Director 
MORGAN CITY, LA – At a Special Meeting of the Board of Commissioners of the Morgan City Harbor and Terminal District ("District") held on August 28, 2013, Raymond M. "Mac" Wade, CPE, was named the new Executive Director for the District.
Mr. Wade replaces Jerry L. Hoffpauir who will be retiring from his position as Executive Director as of August 31, 2013. Mr. Hoffpauir has held this position since July 2006.
As Executive Director, Mac will work with the commissioners and local stakeholders to improve the efficiency of the river system. He will maintain communications with the United States Army Corps of Engineers, United States Coast Guard, United States Customs and Border Protection, and local, parish, state and federal officials and others involved with waterway activities. Mac will work to foster economic development opportunities.
Mac was appointed as a commissioner for the District in 1987, and served for 24 years; 6 years as Vice President and his last 4 years on the Commission as its President. He has served as an Advisor to the Board the past two years.
Mac has earned recognition as a Certified Port Executive, having finished the course in March of 2013. He holds a Bachelor of Science Degree from the University of Southern Mississippi. Mac has served his Country as a Staff Sargent in the Army Reserves for 6 years. For the past 38 years he has earned recognition, training and certificates in Project Management, Hazardous Waste Management, Communication Skills, Sales and Marketing training.
Mac has lived in Morgan City since 1975 and has been involved in the Oilfield and Environmental Industry. For the past 13 years, he has been employed by PSC Environmental Services as a National Account Manager working with the United States Environmental Protection Agency and United States Army Corps of Engineers Emergency Rapid Response Services Division "ERRS" Contractors.
Mac is married to the former Karen Beadle and they have 2 children. In his spare time he enjoys hunting, fishing and traveling.
Mac's contact information:
Office - 985-384-0850, Extension 105
Cell – 985-498-9337
Email –
This email address is being protected from spambots. You need JavaScript enabled to view it.
New Tide Station Officially Operational
Details

Category: News & Press
A new tide station at the Martin Mainstream Fuel Services in Berwick officially is operational.  Tim Osborn of the National Oceanic and Atmospheric Administration presented Morgan City Harbor and Terminal District Executive Director Jerry Hoffpauir a ceremonial key to the facility along with a framed letter of congratulations on the facility's opening during Monday's meeting. Information from the station can be found online at http://tidesandcurrents.noaa.gov/geo.shtml?location=8764044. From left are Osborn, Hoffpauir, and Capt. Jonathan Burton, commanding officer of the U.S. Coast Guard's Marine Safety Unit, Morgan City, and captain of the port.
St. Mary Parish Sheriff's Department receives grant with assistance of POMC
Details

Category: News & Press
SMPSO receives grant with assistance of POMC
Details

Category: News & Press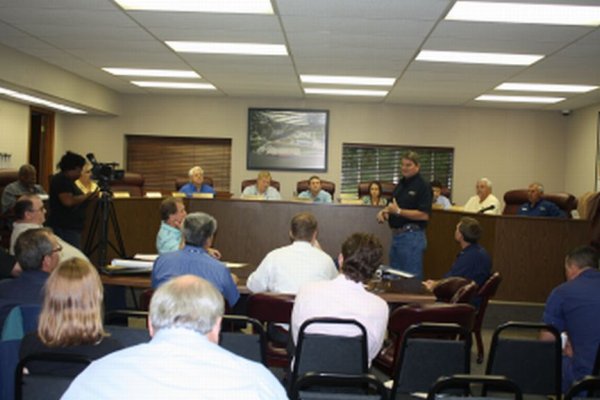 Sheriff Mark Hebert attended the Port's April meeting and thanked the Commissioners for the Port's contribution with the Port Security Grant Program.

Click here for more photos
Government Emergency Operations Center
Details

Category: News & Press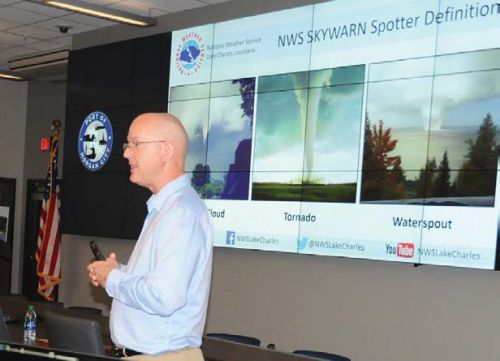 Workers with Ardaman & Associates take soil samples using a drilling rig today at the site of the Port of Morgan City's government operations and emergency center. The site is located on La. 182 next to the Morgan City Municipal Auditorium. Workers are drilling the hole to 150 feet, and they will drill more holes through Tuesday to test the soil for
stability. In the background is the car wash across from the auditorium. The center will cost $9.3 million and will be able to serve as an emergency command center that can house governmental agencies.
Published by Daily Review 04/24/14
Hoffpauir receives Commander's Award for Public Service
Details

Category: News & Press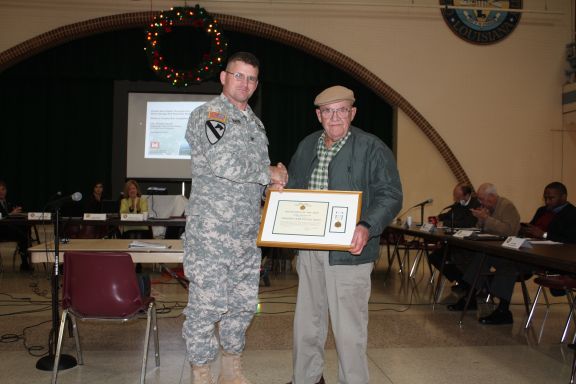 Colonel Hansen, Corps of Engineers presented former Executive Director, Jerry Hoffpauir a Commander's Award for Public Service for his exceptional insights and commitment to excellence while serving the pulic during his 14 year career with Port of Morgan City.