New Resigns From Commission
Details

Category: News & Press



New resigns from Port commission, cites potential conflicts


The vice president of the Morgan City Harbor and Terminal District resigned from the local port commission Tuesday, citing potential conflicts of interest due to his business affiliations.  Bill New submitted his resignation letter Tuesday morning.  The resignation was effectively immediately.  "As the Port moves deeper into economic development, efforts that I whole-heartedly agree with and support, it is inevitable that conflicts will arise with current and future customers of the Port and New Industries," New said in a letter to fellow commissioners.  "I feel that it is better to proactively address this before it becomes an issue, and prevent even the appearance of conflict that might taint or detract from the reputation and good works of the port, the commission or individual commissioners."  Because he is both a business owner and a commissioner, state law bars New from conducting business with a port client or tenant.  With the current challenges facing the south Louisiana economy, "I can't be walling off customers," said New, who has been a commissioner for more than four years.  New already is losing one tenant. Delta Steel has announced that it will be vacating the facility next door to New Industries on Railroad Avenue in Morgan City this month.  New leases the plant to Delta Steel. The business is leaving as a result of both the economic recession and impact of the BP oil spill.  While he said he wanted to see through issues the local port is facing — especially the redesignation of Crewboat Cut as the authorized channel to the Gulf of Mexico and finding a solution to the Atchafalaya River Bar Channel's fluff problem — he said he didn't want to risk a conflict of interest and harm his business' or the port's reputation by staying on the commission.  "I told everybody anything I can do to help, I would be happy to help," New said. "I just can't do that as a member of the commission any more."  Port Executive Director Jerry Hoffpauir said he does not foresee a similar problem with any other commissioners, because no other commissioners own companies.  The local port's executive director said the vacated seat could be filled as early as September's meeting, but certainly by October's meeting.  The St. Mary Parish Council will be responsible for filling the seat with someone from the Port of Morgan City's district.
Published in Daily Review July 29, 2010
Jones Appointed To Commission
Details

Category: News & Press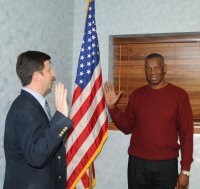 SWEARING-IN ceremonies were held Monday to install Joe Jones of Morgan City as a member of the Morgan City Harbor and Terminal District board. Jones replaced Willie Tezeno, whose term expired.  Administering Jones the oath was board attorney Gerard Bourgeois. Jones joins Deborah Garber, Greg Aucoin, Bill New, Raymond "Mac" Wade, Bill Pecoraro, Jerry Gauthier, Matt Ackel and Duane Lodrigue on the port commission.
 Published in Daily Review on 01/15/10
Governor Jindal Addresses Oil Spill
Details

Category: News & Press
June 8, 2010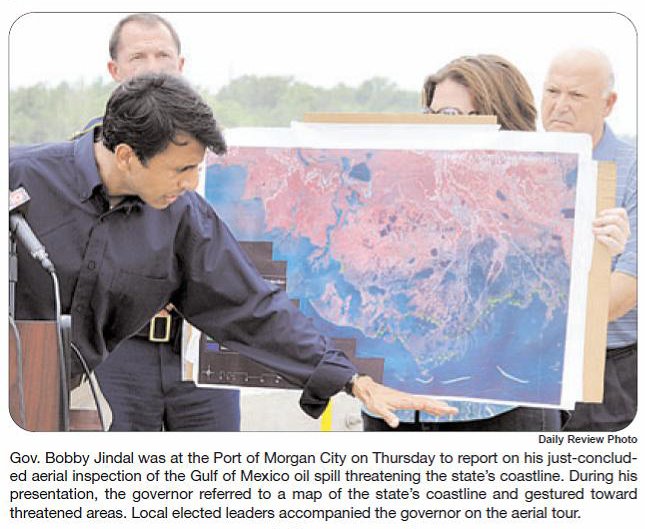 Port Donation To Town Of Berwick
Details

Category: News & Press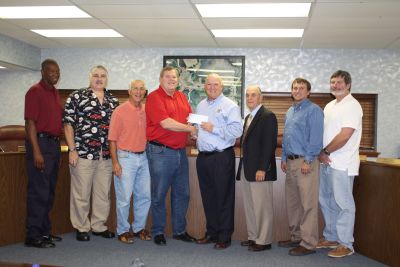 Berwick Mayor Louis Ratcliff accepted a $50,000 check from the Morgan City Harbor and Terminal District at Monday's meeting. Ratcliff requested funds from the board at its August meeting to assist with the upgrade of the town's wharf and dock area between the U.S. 90 and La. 182 bridges. Port funding also has been pledged for similar work in Morgan City. From left are board members Joe Jones, Matt Ackel, Bill Pecoraro, board President Raymond "Mac" Wade, Ratcliff, and board members Greg Aucoin, Duane Lodrigue and Bill New.  (Click
here
for more photos)
Published in Daily Review November 10, 2009

Intermoor Celebrates Groundbreaking Of Morgan City Facility
Details

Category: News & Press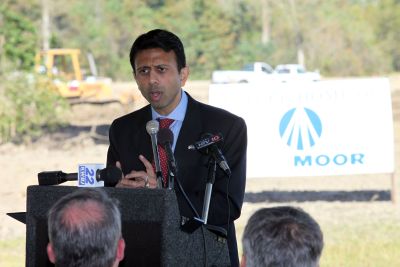 MORGAN CITY, La. - Today, Gov. Bobby Jindal joined Morgan City Mayor Tim Matte and InterMoor President Tom Fulton to announce InterMoor Inc. will expand its operations in Morgan City, La. The $17.2 million capital investment will allow the company to retain 250 jobs and create 320 new jobs in the next five to seven years at an average annual salary of $60,000, plus benefits. Louisiana Economic Development estimates the project will also lead to the creation of approximately 433 indirect jobs, once the project is fully ramped up.
"This announcement shows that Louisiana is strongly committed to helping existing companies grow and ensuring that our people have good paying jobs," said Gov. Jindal. "We are no longer a state that just watches company after company leave like we saw too often in years past. We are committed to growing companies already operating in Louisiana, while continuing to aggressively pursue new business investment to increase the economic momentum of our state."
InterMoor will remain in St. Mary Parish, but will relocate from its current location in Amelia, La., to a 24-acre site owned by the Port of Morgan City. LED estimates the expansion will generate more than $8 million in new, state tax revenues and nearly $7 million in new, local tax revenues in its first five full years of operations.
"InterMoor is looking forward to becoming a member of the Morgan City business community, and we appreciate the continued support from the Port Commission and other state agencies in working to make this new facility a reality," said Fulton. "This new 24-acre facility will be a realization of a long-term goal, which shows our commitment for growth to our employees, the community of Morgan City and the oil and gas industry."
A subsidiary of Acteon, InterMoor Inc. designs, supplies and deploys technically advanced mooring systems and provides rig-move and back-of-the-boat installation services worldwide.

Released by Louisiana Economic Development on November 5, 2009


PAL Speakers Bullish on Louisiana
Details

Category: News & Press
April 24, 2009
Experts in the fields of transportation, economic development and coastal restoration were among those to address the 26th annual Ports Association of Louisiana conference at the Holiday Inn of Morgan City. The three-day 26th annual conference ended this morning with a board meeting. "Atchafalaya Gateway: Leading to the Gulf and Beyond," was the theme of the event. Helping welcome the visitors to the area were Morgan City Mayor Tim Matte, Berwick Mayor Louis Ratcliff, St. Mary Parish President Paul Naquin, Morgan City Harbor and Terminal District President Raymond "Mac" Wade and state Reps. Joe Harrison, R-Labadieville, and Simone Champagne, D-Jeanerette. Louisiana Secretary of Transportation and Development Dr. William Ankner, state Economic Development Secretary Stephen Moret and Department of Natural Resources Deputy Secretary Lori LeBlanc offered optimistic predictions about the future of the state in their respective fields. The crystal ball was not nearly as clear for Jennifer Marusak of Moving Louisiana Forward, a transportation watchdog group, and R. King Milling, who heads the America's Wetlands campaign. Offering their insights to conference attendees about ongoing coastal and border protection efforts were Garrett Graves and Mitch Merriam.